Welcome to the JVNP 2.0 Weekend Update, featuring a JV request courtesy of fellow JVNP 2.0 Partner Mark Anastasi (JVwebinarscom – Top 20 Best Joint Venture Webinars for March 2023), Buzz Builders, and More … in Today's in collaboration with JVNP/JVNW edition of the JVNP 2.0 Update.
Have a Great Saint Patrick's Day Weekend … whether you're celebrating, or not!

– Mike Merz Sr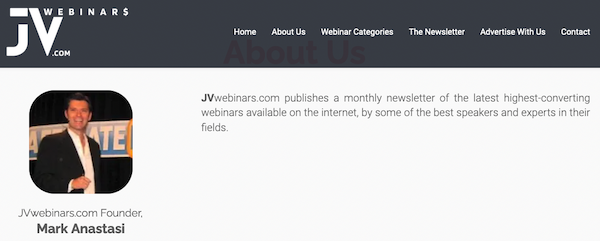 The Top 20 Best Joint Venture WEBINARS – March 2023
==================================================
#1 "The 10-Slide Blueprint to Making Seven Figures a Year Working From Home (Shockingly Easy)!"
Publisher: Jeremy Gislason
This offer has brought in $350k in sales so far, with EPCs of $8 – $10 on average, and as high as $17 and $34 in some cases.
Works well with the Listbuilding/Affiliate Marketing/Experts/Authors markets.
Earn 50% affiliate commission on $997 offer, plus get a complimentary ProductDyno VIP Platinum level account for a JV, with lifetime access for partners who promote.
==================================================
#2 "How to Use A.I. To Generate Extraordinary Results and Profit Wildly!"
Publisher: Barry Plaskow
How to use ChatGPT to generate sales of other peoples' products and earn $1,000+ commissions with barely lifting a finger.
How to become a super affiliate, even without an online following
Earn 50% affiliate commission on $997 offer.
==================================================
#3"How Digital Marketing Businesses And Social Media Managers Can Make Significantly More Money"
Publisher: Dylan Vanas
Promote two high-end done-for-you offers that are currently converting at a fantastic 25% conversion rate.
Earn a whopping $350+ per webinar attendee!
Dylan's offer helps business opportunity seekers, digital marketing agencies, social media managers, and freelancers make more money, with some truly great testimonials and success stories.
==================================================
#4 "How To Build a List In 30 Days And Make Money Online In 30 Days – The e-Farming System webinar"
Publisher: Igor Khefeits
Topic: Listbuilding and affiliate marketing
Average conversion rate: 11%
Earn 50% affiliate commission on $997 offer.
==================================================
#5 "Can This Recession Be Your Biggest Investment Opportunity?"
Presenter: Robert Rolih
Robert Rolih is selling his flagship online course for long-term investors who want exceptional results. The results speak for themselves. Since 2012, Robert's course has attracted over 6,000+ members who have consistently outperformed the best Wall Street experts.
50% commission on $997 sale.
10-15% conversion rate.
Can reciprocate with 800 registrations on a webinar (business & money topics only).
==================================================
#6 "One Click Products!"
Publisher: John Rhodes
"How Two Ordinary Guys Got $523.79 Per Day By Practically Giving Away The Best Product On The Internet!"
Commission: 50% on $997 sale.
8 to 12% conversion rate.
Generate $30 to $70 in revenue per webinar attendee!
==================================================
#7 "How To Get Paid To Talk About Your Favorite Brands Online—7 Different Ways To Get Paid By Brands By Posting About Them!"
Publisher: Chris Luck
Jason Fladlien promoted and did $1.4 million in sales. The webinar converted at 29%. Anik Singal did $807,605 in sales, with a 25% conversion on the webinar.
It's been described as 'The Highest Converting Offer Of 2022'.
==================================================
#8 "How To Run a Six Figure Digital Agency And Outsource 90% of The Work!"
Publisher: Alicia Lyttle
We ran it to our list and it converted at 15% on a $497 offer.
Affiliates are earning up to $371 per sale thanks to this high-converting webinar funnel.
Can reciprocate with 200 to 300 attendees for your own webinar.
==================================================
#9 "The Simple $100K+ a Year Side Business That Regular People Are Doing Online in 1 to 2 Hours a Day!"
Publisher: Jon Shugart
Converts at 8 to 12% on $1,497 offer, and commissions are $598.80 per sale plus $50 per month recurring. The Average Attendee Value is a massive $243.
"The success stories are fantastic, with multiple six-figure earners starting from scratch in less than a year, and some buyers are reporting making $6,000 in profit in a single day. Some JV partners are saying it is the highest converting webinar they've seen."
==================================================
#10 "The Scientific Approach to Successful Affiliate Marketing (6 Ways to Earn in the Online Economy)"
Publisher: Simon Coulson
Earn $56 per webinar attendee.
Can also reciprocate with 100 – 200 attendees on a webinar.
==================================================
#11"The Ultimate eCommerce Dropshipping System – AI meets eBay"
Publisher: Really Successful Ltd
The #1 eBay research tool on the market. Quickly identifies high-demand, high margin products available for dropshipping from multiple suppliers. With a built-in eBay comparison tool to immediately calculate profits, locate dropshippers, and find a cheaper source for products. Advanced eBay scale tactics, dropshipping and Shopify hacks.
==================================================
#12 "Kindle Cash Flow"
Publisher: Ty Cohen
"Now It's Your Turn to Promote The Very Same Webinar That Has Generated Over $55 Million In Sales!"
50% Commissions / $498.50 per sale
Conversions range from: 15-20%
EPC's range from $3.50 – $15.00 depending on list.
==================================================
#13 "The Crypto Swap Profits webinar"
Publisher: Joel Peterson
Topic: We teach 7 ways to make money with Crypto with the main focus in the Decentralized Finance (DeFi)
Make $619 on the initial sale and $40 a month recurring.
==================================================
#14 "Complete Done-For-You System Gets YOU Local Clients Without Cold Calling Or Hard Selling"
Publisher: David Cassar
What they will learn: How to Get everything you need to land local clients fast.
Everything is 100% 'done for you' so you can get started right away
Get access to a 'done for you' service that local clients need and want.
Everything is battle-tested and proven to get clients & make money.
$399 offer, 50% commission.
9% to 14% conversion. $16.59 to $27.34 EPC.
Can reciprocate by promoting to list of 20,000 buyers.
==================================================
#15 "Rebel Crypto Trader"
How To Go From Never Traded Before, To Trading Crypto For A Living In Just 30 Minutes A Day!
Publishers: Stephen Somers, Robert Ricky, and Sean Donahoe
"A recent affiliate had 142 Attendees, $32,842 gross sales, generated $231 EPA."
==================================================
#16 "The 3 Secrets The Three-Time World Trading Champion Uses To Make Money Daily"
Publisher: Tradeology
Topic: FX trading.
13.6% conversion rate, 22% conversion rate with the replay, at $750 price point.
50% commissions.
Can reciprocate by getting 300+ registrations for your webinar.
==================================================
#17 "How To Master Affiliate Marketing – Stop Wasting Time, Start Earning Money!"
Publisher: Paul O'Mahony
Averaging 20.32% conversion and $202 per attendee. 50% commission.
Can also reciprocate with 100-150 people on a webinar.
==================================================
#18 "How I Turned $30k into $180k In Just 3 months, Thanks To Cryptocurrency Trading"
Presenter: Andy Demi, a former hedge fund manager from JP Morgan in London.
We ran this webinar to our list, and it converted at 11.4% on a $1,997 offer.
We did $80,000 in sales with 307 people on the call (approximately $260 in sales per attendee).
Offering $1,000 per sale, in commissions, to our JV partners.
==================================================
#19 "The Plan"
Publisher: Dan Hollings, Jason Fladlien
Topic: Crypto webinar.
"This webinar has outpaced virtually everything on the market. Affiliates have NEVER made so much money with a single offer… EVER. This thing converts like CRAZY!"
==================================================
#20 "How To Become A 7 Figure Consultant"
Publisher: Kane Minkus, Founder & CEO of Industry Rockstar®
22% conversion at $197 price point. 100% commission.
==================================================

Welcome to your complimentary edition of JVwebinars.com monthly newsletter (in collaboration with JVNotifyPro.com)!

Our mission is to help internet marketers find the best high-converting, high-ticket offers to promote.

For more information on how to joint venture with our webinar publishers, or if you have a webinar to suggest for our listing, contact us at "hello@jvwebinars.com" with the subject "Mike Merz Sr sent me …" to expedite the process.
Find our full listings of webinars at www.JVwebinars.com

To Your Success,

Mark Anastasi
Founder, JVwebinars.com
Author of the New York Times Bestseller 'The Laptop Millionaire'
—–
Buzz Builders
The following Buzz Builders are Premium mailing recipient JV offers made by JVNP 2.0 VIP Partners announced recently in the JVNP 2.0 Update that are either yet to launch, or are still in the pre-launch or launch cycle.
To access the merchant's JV page, a link to the forum archive of the mailing for discussion, VIP review access (when available) + more … please click the JV Invite/Page link in the Buzz Builder listings, below.
Experienced, serious affiliate marketers with the proven ability to generate quality leads and convert (and retain) multiple sales, ONLY … Please!
Problem? Reply to this email with any questions or concerns.
———-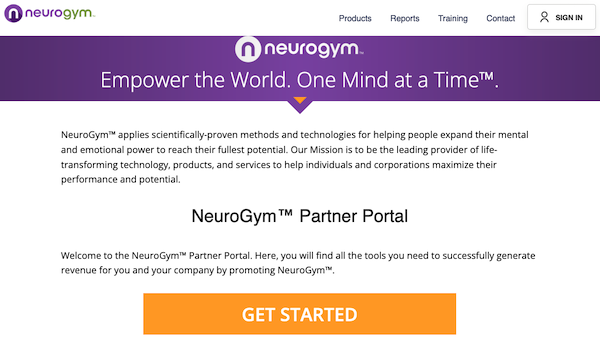 John Assaraf – NeuroGym – Business Breakthrough Challenge Q1 2023 Launch Affiliate Program Registration Page
Launched Monday, February 27th 2023 – Sunday, April 2nd 2023
Average $6 EPCs + $11 EPOs … Rack up $50K+ Commission in 30 Days!
JV Partners … You Are Invited! John Assaraf's Neurogym 5-Day Business Breakthrough Challenge Quarter 1 2023 NeuroGym has successfully run 8 Business Breakthrough Challenges and are projecting this will be one of our largest events of the year! $6 EPC + $11 EPO. Make Up To $50K+ In 30 Days. 5-Day Live Challenge from March 9th – 15th, 2023. Launch Dates Feb 27th – April 2nd, 2023. John Assaraf – NeuroGym – Business Breakthrough Challenge Q1 2023 launch affiliate program registration page.
—–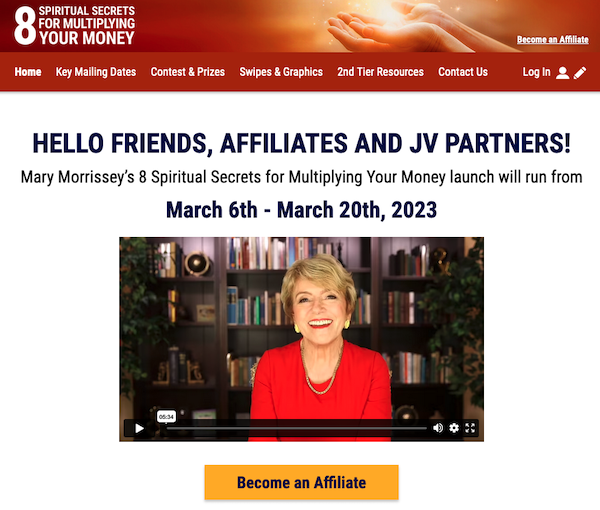 Mary Morrissey – 8 Spiritual Secrets For Multiplying Your Money 2023 Launch Affiliate Program Registration Page
Launched Monday, March 6th 2023 – Closing up Shop This Coming Monday, March 20th 2023
$198 Per Sale Commission PLUS Your Share of Thousands in Launch Contest Prizes!
8 Spiritual Secrets for Multiplying Your Money is an 8-week online program that explores each of the core principles for creating wealth and how to apply them to your own life. You'll receive 50% commission on all sales you refer (the core program sells for $397) … plus grab your share of the thousands of dollars worth of prizes they're giving away during the launch! Mary Morrissey – 8 Spiritual Secrets For Multiplying Your Money 2023 launch affiliate program registration page.
—–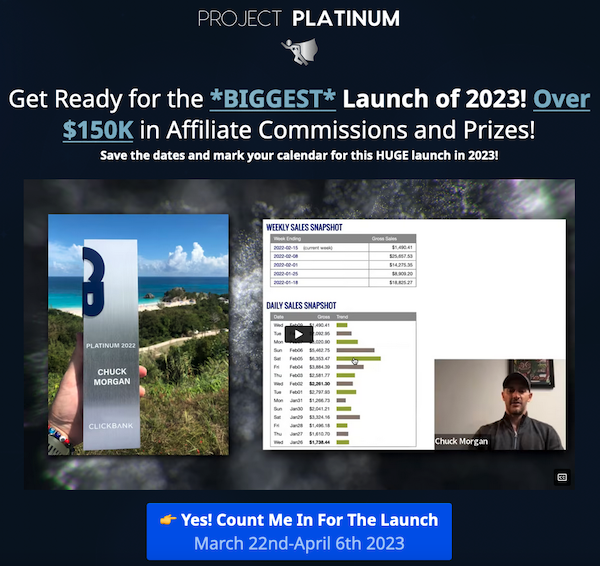 Robby Blanchard – Project Platinum Launch Affiliate Program JV Request Page
Pre-Launch Begins This Coming Wednesday, March 22nd 2023
Launch Day: Monday, March 27th 2023 – Thursday, April 6th 2023
Grab 50% of $2497 Per Sale Affiliate Commission, Your Share of $150K+ in JV Contest Prizes & More
This launch is all about helping people reach Platinum on Clickbank which means doing over $250,000 online in one year. To date we've helped over 100 people become Clickbank Platinum, with sales exceeding $100MM, and it's our goal to help everyone that joins Project Platinum reach that goal as well. Robby Blanchard – Project Platinum launch affiliate program JV request page.
—–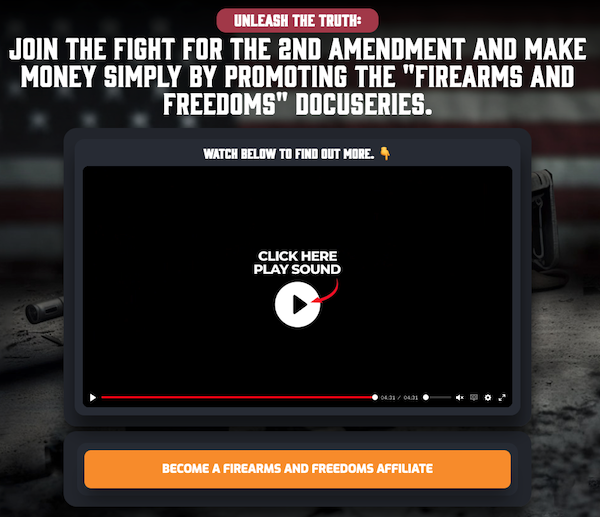 Jeff Hays – Firearms And Freedoms Launch Affiliate Program Registration Page
Pre-Launch Begins This Coming Tuesday, March 21st 2023
Launch Day: Tuesday, April 4th 2023 – Sunday, April 23rd 2023
Don't Miss Out on Your Chance at a Historic AOV of Over $200!
Join the Fight for the 2nd Amendment and Make Money Simply by Promoting the "Firearms And Freedoms" Docuseries. Only send free viewing opportunities for your followers, Send ZERO sales emails to your list (leaving you free to promote other offers). Sky-high conversions and low, low refunds. Each sale from your list nets you between $39 and $148 with an historic AOV of over $200!
———-
Proven Evergreen Promos:

In The Spotlight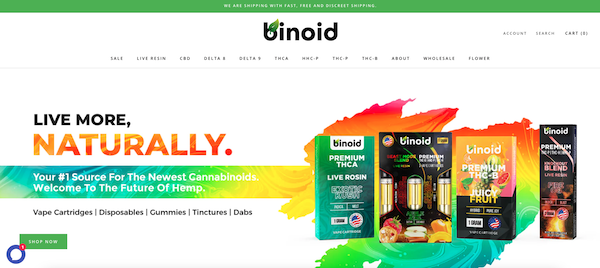 Binoid CBD – Cannabinoid Products Evergreen Affiliate Program Registration Page
Earn Affiliate Commission Promoting One of The Net's Top CBD Wellness Companies!*
Binoid was founded by wellness enthusiasts who believe CBD should be a vital part of living a healthy lifestyle. Our mission is to empower CBD Wellness by providing superior products that are as enjoyable as they are good for you, with zero compromises on quality and ingredients. "Excellent" rating on Trustpilot. Earn affiliate commission referring our top quality products to your audience (where legal in USA*)! Binoid CBD – Cannabinoid Products evergreen affiliate program registration page.
—–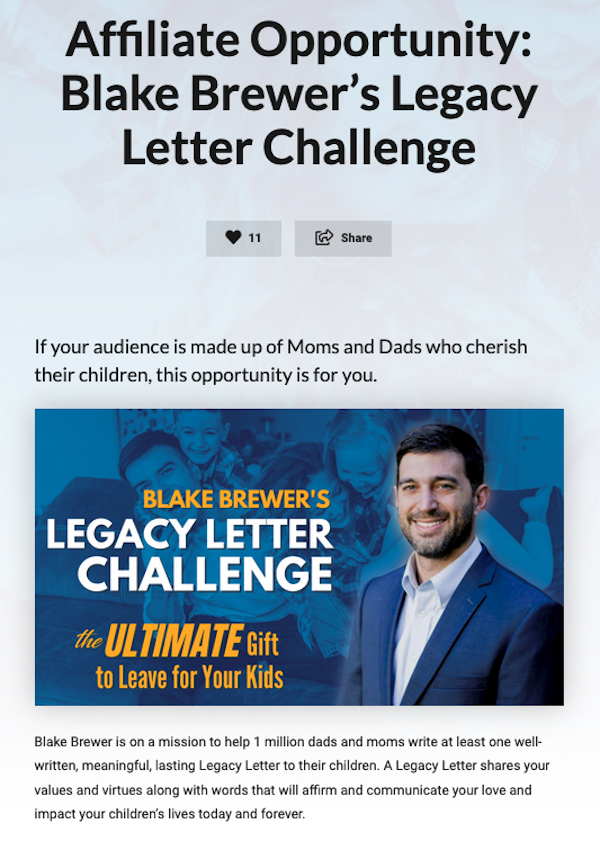 Blake Brewer – The Legacy Letter Challenge Evergreen Affiliate Program JV Request Page
Grab 40% Commission Teaching Your Audience How To Write The Best Letter They've Ever Written!
The Legacy Letter Challenge has received rave reviews, with positive testimonials flooding in daily, and has been endorsed by some of the most influential leaders in parenting and entrepreneurship, including Ken Canfield, Anthony Trucks, James Reid, and Aaron Walker. 40% of $197 affiliate commission. Lifetime cookie. Blake Brewer – The Legacy Letter Challenge evergreen affiliate program JV request page.
Proven Mid to High Ticket Evergreen Webinar-Based Promos:
If you're looking for proven mid to high ticket evergreen webinar-based promos to promote as an affiliate for high commission and additional potential incentives from proven JVNP 2.0 Partners like John Thornhill, Patrick Stiles, Michael Hearne, Nate Hopkins + Waldon Fenster, Igor Kheifets, Glen Ledwell, Ridgely Goldsborough + Mike Filsaime, Simon Wood + Imran S, Michael Martin, Dan Thies + Leslie Rohde, Jack Scanlan, Matt McWilliams, Damien Zamora, Daniel Levis, John Pearce + Chris Cantell, Blake Nubar , Rocktomic, Andrew Hansen + Sara Young, Roy Carter, Travis Stephenson, Kevin Thompson, Jason Potash, David Cavanagh, Mike Balmaceda and others, have solid past performance proof that you can convert and retain multiple sales of the aforementioned, and can pull at least 200 registrants/100 attendees, please contact Mike Sr !
———-
JVNP 2.0 New Affiliate Program Launch Announcements

Rachel Rofe (Mini Income Streams), Mike Long + David Mills (Green Gold), Caleb O'Dowd (7-Figure Mini Groups – Platinum Edition), Brooke Laws & Pedro Mattos (Self-Publishing School), Andrew Zirkin, Mo Latif (ClickDesigns), Igor Kheifets (30-Day e-Farming Challenge), and other fellow JVNotifyPro 2.0 partners are waiting in the wings … keep your eyes on your Inbox, and follow the action in the JVNP 2.0 Premium VIP JV Announcement archives.
Dave Nicholson + Dan Sumner, Eric Holmlund + Firelaunchers, Andrew Darius, Marcel van de Kerkhof, Dbufs and other Fellow JVNP 2.0 Partners have active listings on the JVNewsWatch Launch Calendar, gathering JV Affiliate Partner prospects on autopilot … JVNewsWatch JV Product Launch Calendar
Need Help?
Account Management Center Support Helpdesk
JVNP 2.0 Social Network Groups/Communities
———-
IMPORTANT!
The new product launch and evergreen affiliate program JV offers advertised on JVNP 2.0 and the JVNW Calendar are meant for experienced Affiliate Marketers. If you have little to no affiliate marketing experience, we feel it would be most beneficial for you to complete the following JVNP 2.0 recommended Free Affiliate Marketing Training.
———-
That's All, Folks!
To OUR Success,
Mike Merz Sr
AWeber/JVListPro Archives – RSS
———-
Legal
As stated during the registration process, you are receiving the JVNP 2.0 Update Newsletter as a perk for being an active JVNP 2.0 Partner. JVNP 2.0 Updates are mailed no more than 3 times a week, usually on Tuesday, Thursday + occasionally on Saturday. The JV Offers announced in this newsletter are paid advertisements. The opinions expressed are those of the respective Merchants, and do NOT constitute an endorsement or approval by JVNotifyPro. Participate at your own risk. The contact details you provided will never be traded, sold, or given away. If you no longer wish to remain on this list, or to otherwise manage your subscription, please feel free to use the subscriber option links below.
Powered By JVListPro/AWeber Email Marketing Software