Welcome to the JVNP 2.0 Update Weekend Digest featuring our active "Buzz Builders", premium mailing recipient JV offer teasers for JV announcements made by Fellow JVNP 2.0 VIP Partners announced recently in the JVNP 2.0 Update, or Featured on our JVNewswatch launch calendar, that are either evergreen (John Thornhill – Ambassador Program), yet to launch, yet to pre-launch (Stu McLaren – TRIBE 2021), are still in the pre-launch cycle, and more …
Have a very happy & healthy Good Friday, Passover & Easter weekend … whether you're celebrating, or not!

– Mike Merz Sr
PS. IMPORTANT! We're still in the process of upgrading the JVNW JV calendar stat-tracking system, which is unfortunately resulting in registered clicks not showing up on the calendar. We apologize for this temporary inconvenience!
Active Buzz Builders For The Week Ending Sunday, April 4th 2021.
The following Buzz Builders are Premium mailing recipient JV offers made by JVNP 2.0 VIP Partners announced recently in the JVNP 2.0 Update that are either yet to launch, or are still in the pre-launch or launch cycle.
To access the merchant's JV page, a link to the forum archive of the mailing for discussion, VIP review access (when available) + more … please click the JV Invite/Page link in the Buzz Builder listings, below.

Experienced, serious affiliate marketers with the proven ability to generate quality leads and convert (and retain) multiple sales, ONLY … Please!
Problem? Reply to this email with any questions or concerns.
—–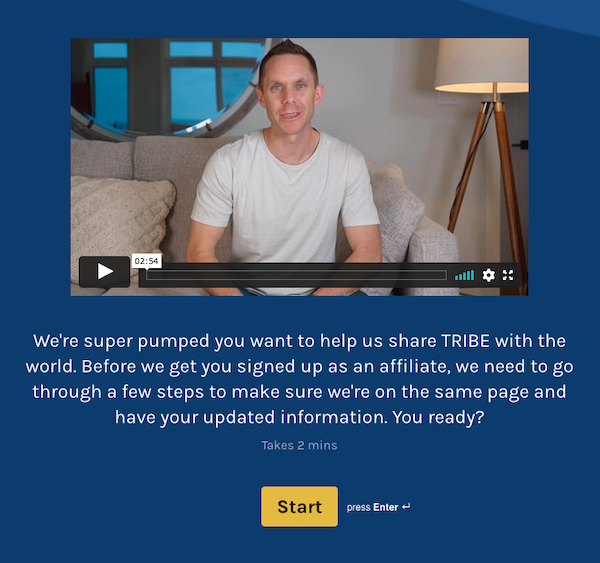 Stu McLaren – TRIBE 2021 Launch Affiliate Program JV Request
Pre-Launch Phase: Thursday, April 22nd 2021 – Friday, April 30th 2021
Launch Day (Webinar & Open Cart): Saturday, May 1st 2021 – Thursday, May 6th 2021
Boogie With Stu (70K+ Membership Creators Have Done Just That)!
Days to the start of the TRIBE Workshop (April 22): 20
Days to the BIG promo push (April 15): 13
Days 'til you can start promoting: ZERO!
Find out how to gain access to your TRIBE promo tools here.
My big question right now is: If you're an experienced affiliate, and your audience would like to learn how to start a membership site, & generate recurring revenue (TRIBE has helped over 70,000 membership creators do just that), can we count you in for supporting the launch this year? Find out everything you need to know about the TRIBE launch, including how to get on board the affiliate program, here => Stu McLaren – TRIBE 2021 launch affiliate program JV request.
—–
Proven Mid to High Ticket Evergreen Webinar-Based Promos:

If you're looking for proven mid to high ticket evergreen webinar-based promos to promote as an affiliate for high commission and additional potential incentives from proven JVNP 2.0 Partners like Jack Scanlan, Matt McWilliams, Damien Zamora, Daniel Levis, John Pearce + Chris Cantell, Blake Nubar, Rocktomic, Andrew Hansen + Sara Young, Roy Carter, Travis Stephenson, Kevin Thompson, Jason Potash, David Cavanagh, Mike Balmaceda and others, have solid past performance proof that you can convert and retain multiple sales of the aforementioned, and can pull at least 200 registrants/100 attendees, please contact Mike Sr!
—–
JVNP 2.0 New Affiliate Program Launch Announcements
Leslie Rohde, Daniel Katz, Tim Houston, Jonathan Green, Dean Gilmore, and other fellow JVNotifyPro 2.0 partners are waiting in the wings … keep your eyes on your Inbox, and follow the action in the JVNP 2.0 Premium VIP JV Announcement archives.
Andrew Darius, Matt Garrett, Raj Sidhu, Jim Daniels, CW Tan, James Renouf + Shane Nathan, David V Peters, Chris X, Rich Williams + Yves Kouyo, Venkata Ramana, Matt Ward and other Fellow JVNP 2.0 Partners have active listings on the JVNewsWatch Launch Calendar, gathering JV Affiliate Partner prospects on autopilot … JVNewsWatch JV Product Launch Calendar
Need Help?
JVNP 2.0 Social Network Groups/Communities
———-
IMPORTANT!
The new product launch and evergreen affiliate program JV offers advertised on JVNP 2.0 and the JVNW Calendar are meant for experienced Affiliate Marketers.
If you have little to no affiliate marketing experience, we feel it would be most beneficial for you to complete the following JVNP 2.0 recommended Free Affiliate Marketing Training.
———-
That's All, Folks!
To OUR Success,
Mike Merz Sr
JVNotifyPro Joint Ventures
AWeber/JVListPro Archives – RSS
———-
Legal
As stated during the registration process, you are receiving the JVNP 2.0 Update Newsletter as a perk for being an active JVNP 2.0 Partner.
JVNP 2.0 Updates are mailed no more than 3 times a week, usually on Tuesday, Thursday + occasionally on Saturday.
The JV Offers announced in this newsletter are paid advertisements. The opinions expressed are those of the respective Merchants, and do NOT constitute an endorsement or approval by JVNotifyPro. Participate at your own risk.
The contact details you provided will never be traded, sold, or given away.
If you no longer wish to remain on this list, or to otherwise manage your subscription, please feel free to use the subscriber option links below.
Powered By JVListPro/AWeber Email Marketing Software