Welcome to the JVNP 2.0 Update, featuring a JV request courtesy of fellow JVNP 2.0 Partner Jeff Hays (Firearms And Freedoms 9 episode second amendment rights docu-series launch affiliate program registration page), Buzz Builders, and More … in Today's fight for your 2nd amendment rights edition.
Have a Great Day!

– Mike Merz Sr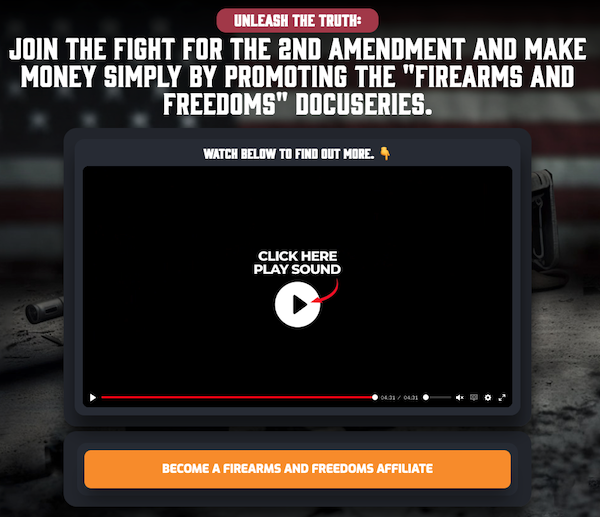 Jeff Hays – Firearms And Freedoms Launch Affiliate Program Registration Page
Pre-Launch Begins: Tuesday, March 21st 2023
Launch Day: Tuesday, April 4th 2023 – Sunday, April 23rd 2023
Fellow JVNP 2.0 Partner, as a F&F affiliate, all you do is send your list a series of fun, short, family-friendly emails or social media posts inviting them to watch the world online premiere of Firearms and Freedom for FREE.
Viewers have 24 hours to watch each episode, which gets them hugely excited, on-board with our mission, and involved.
*When the free-view period ends, a significant chunk of people will want to own the entire series (along with some incredible and valuable bonuses). They appreciate watching episodes they missed, or re-watching moments they loved sharing with their family.

Short on Time? Get Started With The Firearms and Freedoms Affiliate Program.

You can only win …
– Firearms are a hot-button topic EVERYONE cares about.
– A family-friendly offer you can promote to adults anywhere.
– You get a huge 40-50% commission per sale.
– 40% on physical purchases, 50% on digital.
– Each sale from your list nets you between $39 and $148 with an historic AOV of over $200!
– Only send free viewing opportunities for your followers, Send ZERO sales emails to your list (leaving you free to promote other offers).
– Sky-high conversions and low, low refunds.

Firearms and Freedom answers all these questions, and so many more.
We're delivering the highest quality production and sharing some of the country's leading voices on the dangers of tyranny, legislation, government control, and the pros and cons of firearms.
Recent events like Measure 114 (Oregon) and New York vs Bruen make this a must watch event for concerned citizens.
We all know increased legislation will infringe our constitutional 2nd-amendment rights and turn our children and grandchildren into servants of the state.
What many fail to see is the domino effect waiting to happen (but the government is counting on us to miss this).
New state and police powers will almost certainly knock down the 2nd, 4th, and 5th amendments, and that will only be the start of the loss of our freedoms.

The fight back starts here.

Real Talk You Can Trust From 31 Leading Experts and Community Leaders, Including …
JP Sears – freedom-loving comedian, author, and YouTuber.
Tucker Max- Fearless freedom advocate, author, and reformed party animal.
Kendra Geronimo – Sex trafficking survivor and women's safety advocate.
Jeff Gonzales – Former US Navy Seal, modern warfare professional, and founder of Trident Concepts.
Mychael Waller – Gun advocate, concealed carrier, and CEO of MJ's Firearms.
Kari Grayson – NRA and USCCA firearms instructor and leader of the Well-Armed Woman shooting chapter.
Jacob Paulsen – Founder and President of Concealedcarry com
Kevin Dixie – Firearms trainer and founder of anti-violence program 'Aiming For The Truth'.
Maj Toure – American libertarian, political activist and rapper.
Tim Schmidt – Founder of the U.S. Concealed Carry Association.
Mike Sodini – Mental health advocate, and founder of Walk The Talk America.
Kevin Michalowski – Executive editor of Concealed Carry Magazine.
Navy Seals, law enforcement, entrepreneurs, activists, rappers, mothers, fathers, safety advocates, mental health supporters, African American community champions, Women's safety advocates …
… And the heroes who escaped death at the hands of violent criminals and saved innocent lives in the process.

Become a Firearms and Freedoms Affiliate.
Thank you, in advance, for joining our crucial mission to defend second amendment rights and help patriots to push back on one-sided propaganda.

Before we show you what to do next, here's a quick reminder of what you're getting:
– You Earn 50%.
– Our Packages Range from $79 to $297.
– You never send a sales email!
– Just invite your audience to participate in the online FREE viewing.
Some will want to purchase the interviews to keep either in digital or physical DVDs.

IMPORTANT:

Your Firearms and Freedom Timeline:

Follow the process = make more money.

It really is that simple!
– During the weeks of March 21st – April 4th, send a few of the emails we've pre-written for you so readers can sign up to watch for free (we'll be emailing you personalized swipe copy).
– You can also post on your Facebook and Twitter feeds to drive traffic.
– Send one email on April 3rd, the day before the first episode goes live.
– Send one last follow up email on April 4th , reminding readers this is their last chance to watch episode 1 free. (People hate missing out, and will appreciate you reminding them.)
– When all 9 episodes have aired, the cart opens for people to buy. (You do not have to send emails about this.)
– You earn 50% of every dollar your sign ups spend on the digital product and 40% for shipped products, for the lifetime of the product (not just this launch).
– Get paid within 60 days of the cart closing and then monthly as sales come in.

COMING SOON!
Full Replay Weekend: When the launch is over, we'll give everyone a surprise 48 hours to watch free one last time. Let your list know when it happens, and you'll get a healthy revenue boost.
Based on preliminary indicators, we anticipate this project will yield a record-breaking earnings per click in this category of event.

WHAT TO DO NOW
We think you'll love joining us as an affiliate for this Firearms and Freedom event.
Your followers are crying out for this information and will be grateful to YOU for helping them access it free of charge.
Together we'll protect freedom, and you'll be well paid for your efforts.
Register below and we'll reach out personally to get you everything you need to make this event a success.

Get Started With The Firearms and Freedoms Affiliate Program.

Meet Your Partner, Jeff Hays.
Jeff Hays is a filmmaker and a serial entrepreneur. He began making films back in the late nineties.
He is most known for Fahrenhype 9/11 (2004), a response to Michael Moore's Fahrenheit 9/11, and On Native Soil (2006), a documentary focusing on the passionate demand of the surviving family members of 9/11 victims, for an official investigation into the 9/11 attacks. This documentary, which was narrated by Kevin Costner and Hillary Swank was short-listed for an Academy Award.
Hays' most recent health documentary projects were "Bought", "Doctored"and "Undoctored".
Hays explains, "In recent years my eyes have been opened to alternative healthcare options.
The immediate increase in health I experienced personally after starting down this road is something I've just got to share with people."
Hays was commissioned by Patrick Byrne, of Overstock.com to produce a film about the 2016 elections and candidates. This film, "Rigged 2016" was released in November 2016
A pet project is mycrowdfunding com, where Hays teaches filmmakers and entrepreneurs how to create successful donor crowdfunding projects based on his 7-figure success in crowdfunding.
Hays lives in the mountains of Utah with his dog Abby and works from his office in NY. He's the father of 9, and grandfather of 12, with new one's arriving annually…

Get Started With The Firearms and Freedoms Affiliate Program.
Best,

Jeff Hays' Firearms And Freedoms Launch JV Team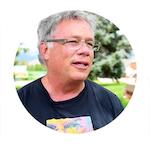 (The JV offers made available in this newsletter are not for the inexperienced +/or simply curious to participate in. Experienced, serious affiliate marketers, with the proven ability to generate quality leads and convert (and retain) multiple sales, only … Please! Problem? Reply to this email with any questions or concerns.)
—–
Buzz Builders
The following Buzz Builders are Premium mailing recipient JV offers made by JVNP 2.0 VIP Partners announced recently in the JVNP 2.0 Update that are either yet to launch, or are still in the pre-launch or launch cycle.
To access the merchant's JV page, a link to the forum archive of the mailing for discussion, VIP review access (when available) + more … please click the JV Invite/Page link in the Buzz Builder listings, below.
Experienced, serious affiliate marketers with the proven ability to generate quality leads and convert (and retain) multiple sales, ONLY … Please!
Problem? Reply to this email with any questions or concerns.
———-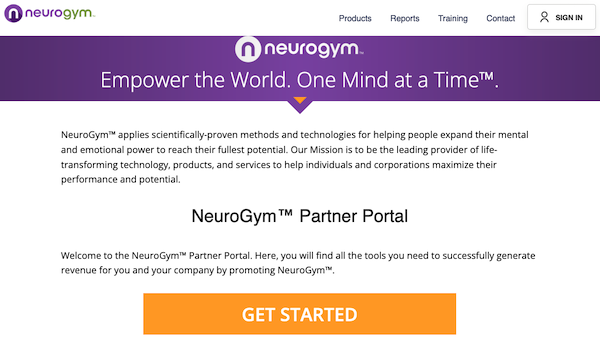 John Assaraf – NeuroGym – Business Breakthrough Challenge Q1 2023 Launch Affiliate Program Registration Page
Launched Monday, February 27th 2023 – Sunday, April 2nd 2023
Average $6 EPCs + $11 EPOs … Rack up $50K+ Commission in 30 Days!
JV Partners … You Are Invited! John Assaraf's Neurogym 5-Day Business Breakthrough Challenge Quarter 1 2023. NeuroGym has successfully run 8 Business Breakthrough Challenges and are projecting this will be one of our largest events of the year! $6 EPC + $11 EPO. Make Up To $50K+ In 30 Days. 5-Day Live Challenge from March 9th – 15th, 2023. Launch Dates Feb 27th – April 2nd, 2023. John Assaraf – NeuroGym – Business Breakthrough Challenge Q1 2023 launch affiliate program registration page.
—–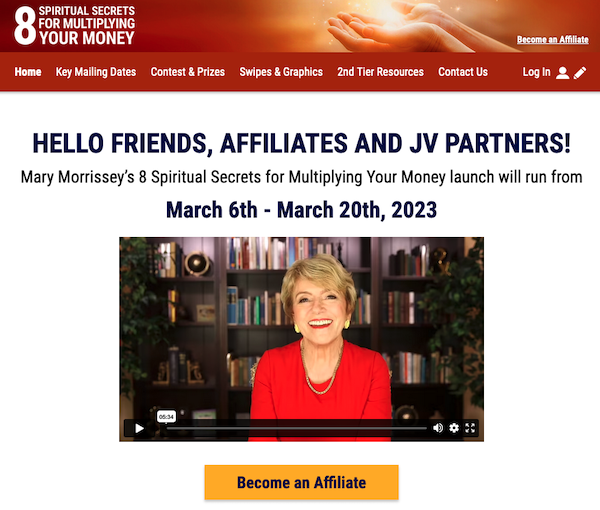 Mary Morrissey – 8 Spiritual Secrets For Multiplying Your Money 2023 Launch Affiliate Program Registration Page
Launched Monday, March 6th 2023 – Monday, March 20th 2023
$198 Per Sale Commission PLUS Your Share of Thousands in Launch Contest Prizes!
8 Spiritual Secrets for Multiplying Your Money is an 8-week online program that explores each of the core principles for creating wealth and how to apply them to your own life. You'll receive 50% commission on all sales you refer (the core program sells for $397) … plus grab your share of the thousands of dollars worth of prizes they're giving away during the launch! Mary Morrissey – 8 Spiritual Secrets For Multiplying Your Money 2023 launch affiliate program registration page.
—–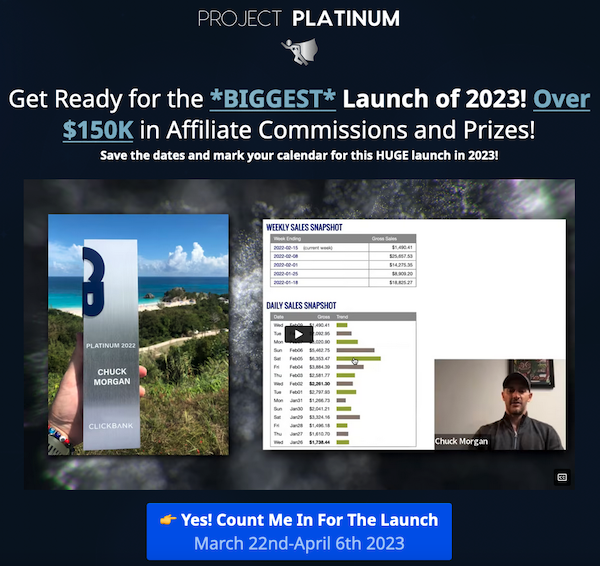 Robby Blanchard – Project Platinum Launch Affiliate Program JV Request Page
Pre-Launch Begins: Wednesday, March 22nd 2023
Launch Day: Monday, March 27th 2023 – Thursday, April 6th 2023
Grab 50% of $2497 Per Sale Affiliate Commission, Your Share of $150K+ in JV Contest Prizes & More!
This launch is all about helping people reach Platinum on Clickbank which means doing over $250,000 online in one year. To date we've helped over 100 people become Clickbank Platinum, with sales exceeding $100MM, and it's our goal to help everyone that joins Project Platinum reach that goal as well. Robby Blanchard – Project Platinum launch affiliate program JV request page.
———-
Proven Evergreen Promos:
In The Spotlight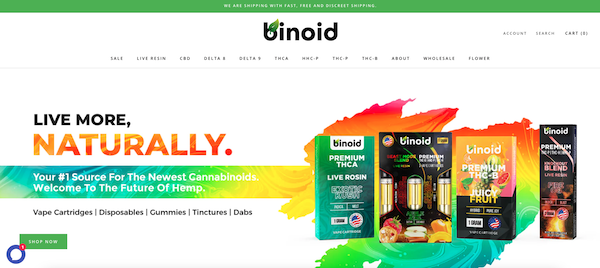 Binoid CBD – Cannabinoid Products Evergreen Affiliate Program Registration Page
Earn Affiliate Commission Promoting One of The Net's Top CBD Wellness Companies!*
Binoid was founded by wellness enthusiasts who believe CBD should be a vital part of living a healthy lifestyle. Our mission is to empower CBD Wellness by providing superior products that are as enjoyable as they are good for you, with zero compromises on quality and ingredients. "Excellent" rating on Trustpilot. Earn affiliate commission referring our top quality products to your audience (where legal in USA*)! Binoid CBD – Cannabinoid Products evergreen affiliate program registration page.
—–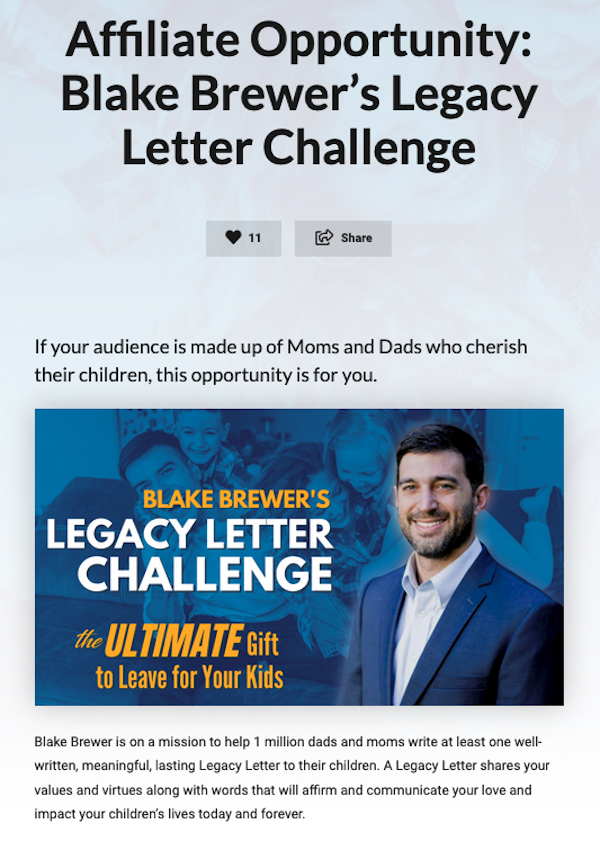 Blake Brewer – The Legacy Letter Challenge Evergreen Affiliate Program JV Request Page
Grab 40% Commission Teaching Your Audience How To Write The Best Letter They've Ever Written!
The Legacy Letter Challenge has received rave reviews, with positive testimonials flooding in daily, and has been endorsed by some of the most influential leaders in parenting and entrepreneurship, including Ken Canfield, Anthony Trucks, James Reid, and Aaron Walker. 40% of $197 affiliate commission. Lifetime cookie. Blake Brewer – The Legacy Letter Challenge evergreen affiliate program JV request page.
Proven Mid to High Ticket Evergreen Webinar-Based Promos:
If you're looking for proven mid to high ticket evergreen webinar-based promos to promote as an affiliate for high commission and additional potential incentives from proven JVNP 2.0 Partners like John Thornhill, Patrick Stiles, Michael Hearne, Nate Hopkins + Waldon Fenster, Igor Kheifets, Glen Ledwell, Ridgely Goldsborough + Mike Filsaime, Simon Wood + Imran S, Michael Martin, Dan Thies + Leslie Rohde, Jack Scanlan, Matt McWilliams, Damien Zamora, Daniel Levis, John Pearce + Chris Cantell, Blake Nubar , Rocktomic, Andrew Hansen + Sara Young, Roy Carter, Travis Stephenson, Kevin Thompson, Jason Potash, David Cavanagh, Mike Balmaceda and others, have solid past performance proof that you can convert and retain multiple sales of the aforementioned, and can pull at least 200 registrants/100 attendees, please contact Mike Sr !
———-
JVNP 2.0 New Affiliate Program Launch Announcements
Mark Anastasi (JV Webinars), Rachel Rofe (Mini Income Streams), Mike Long + David Mills (Green Gold), Caleb O'Dowd (7-Figure Mini Groups – Platinum Edition), Brooke Laws & Pedro Mattos (Self-Publishing School), Andrew Zirkin, Mo Latif (ClickDesigns), Igor Kheifets (30-Day e-Farming Challenge), and other fellow JVNotifyPro 2.0 partners are waiting in the wings … keep your eyes on your Inbox, and follow the action in the JVNP 2.0 Premium VIP JV Announcement archives.
Ali Chowdhry, Dave Nicholson + Dan Sumner, Eric Holmlund + Firelaunchers, Andrew Darius, Marcel van de Kerkhof and other Fellow JVNP 2.0 Partners have active listings on the JVNewsWatch Launch Calendar, gathering JV Affiliate Partner prospects on autopilot … JVNewsWatch JV Product Launch Calendar
Need Help?
Account Management Center Support Helpdesk
JVNP 2.0 Social Network Groups/Communities
———-
IMPORTANT!
The new product launch and evergreen affiliate program JV offers advertised on JVNP 2.0 and the JVNW Calendar are meant for experienced Affiliate Marketers. If you have little to no affiliate marketing experience, we feel it would be most beneficial for you to complete the following JVNP 2.0 recommended Free Affiliate Marketing Training.
———-
That's All, Folks!
To OUR Success,
Mike Merz Sr
AWeber/JVListPro Archives – RSS
———-
Legal
As stated during the registration process, you are receiving the JVNP 2.0 Update Newsletter as a perk for being an active JVNP 2.0 Partner. JVNP 2.0 Updates are mailed no more than 3 times a week, usually on Tuesday, Thursday + occasionally on Saturday. The JV Offers announced in this newsletter are paid advertisements. The opinions expressed are those of the respective Merchants, and do NOT constitute an endorsement or approval by JVNotifyPro. Participate at your own risk. The contact details you provided will never be traded, sold, or given away. If you no longer wish to remain on this list, or to otherwise manage your subscription, please feel free to use the subscriber option links below.
Powered By JVListPro/AWeber Email Marketing Software